March 29, 2018 / by indrajeet / In City / 2 Comments
Yes, you read it right. After a successful launch of Smart bicycle and E-bike, Mobycy is taking commute to a whole new level with "Heli Taxi". Mobycy has now forayed into the Air Space with Heli(Helicopter) Taxis, which will be launched in April 2018.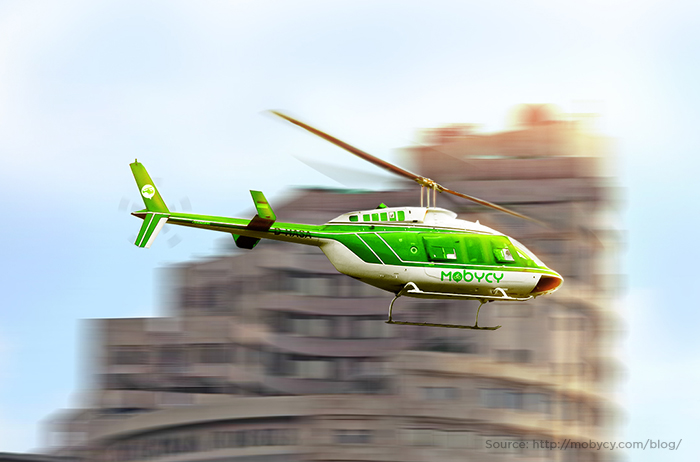 Why heli-taxis?
The staggering increase in traffic every year and the long-stretched commute is a real issue and to fight this Mobycy has introduced smart mobility options which would help curb the threat to our environment and control congestion of roads. Though the response has been tremendous and people are rapidly absorbing the change, Mobycy came-up with another revolutionary and disruptive idea which would enable Mobycy users to "Fly to Work". You heard it right; with the new "Heli-Taxi" you can now easily fly to work and cut your commute time of 2 hours to a mere 15 minutes and that too at an affordable cost.
where & how heli-taXi functionS?
For now, the Heli-Taxi service will be available at Gurgaon and Delhi-NCR only and within 3 months Mobycy plans to expand to 12 cities which will include Bangalore, Pune, Mumbai, Chandigarh etc.  Currently, the Heli-Taxi can only accommodate 6 passengers but the number can increase to 8 with further innovations in Interior Ergonomics.
Why heli-taxi?
Economical – Heli-Taxi will cost you only 3k for 15 minutes or 30k for 6 seats.   For those who have to commute between different cities or have a strict schedule to follow can easily avail this service at a very minimalistic cost mentioned above.
Time-Saver – With Heli-Taxi you can cut your commute time by 90% and those who live life by the seconds will find this product very helpful and might absorb this effortlessly.
Affordable Luxury- Not only Heli-Taxi redefines the way you travel but also redefines you as an individual. You are no more the guy who spends a fortune on an extravagant vehicle just to be stuck in traffic but a person who flies to the place of his will without burning a hole in his pocket (Win-Win).
Redefine CAR-POOLING- Car Pooling serves a good purpose, we get it. But carpooling isn't cool anymore.  Your space is taken away by that annoying colleague and no matter how strong the AC is, the guy next to you breathes fire and you just can't stand it. So, why care about sharing the resources when they leave such a bad experience, Just opt for Heli-Taxi and fly with your personal space and peace intact.
So Watch out for 'Heli- Taxi' by Mobycy and stay tuned for more information.