March 16, 2018 / by indrajeet / In City / 18 Comments
Still pondering over why you have been charged more than the base price?
What is the significance of those mobycy parking circles and why do you get pop-ups when you're out of these circles?
In our update(version -2.1.4), we introduced the concept of Geo-fencing or Parking- Circles and till then our users are filled with many questions; all of which will be answered here.
What is Geo-Fencing?
Geo-fencing is a feature in a software program that uses the global positioning system (GPS) to define geographical boundaries.
Geo-fencing allows an administrator to set up ranges so when a device enters (or exits) the boundaries defined by the administrator, an alert is issued.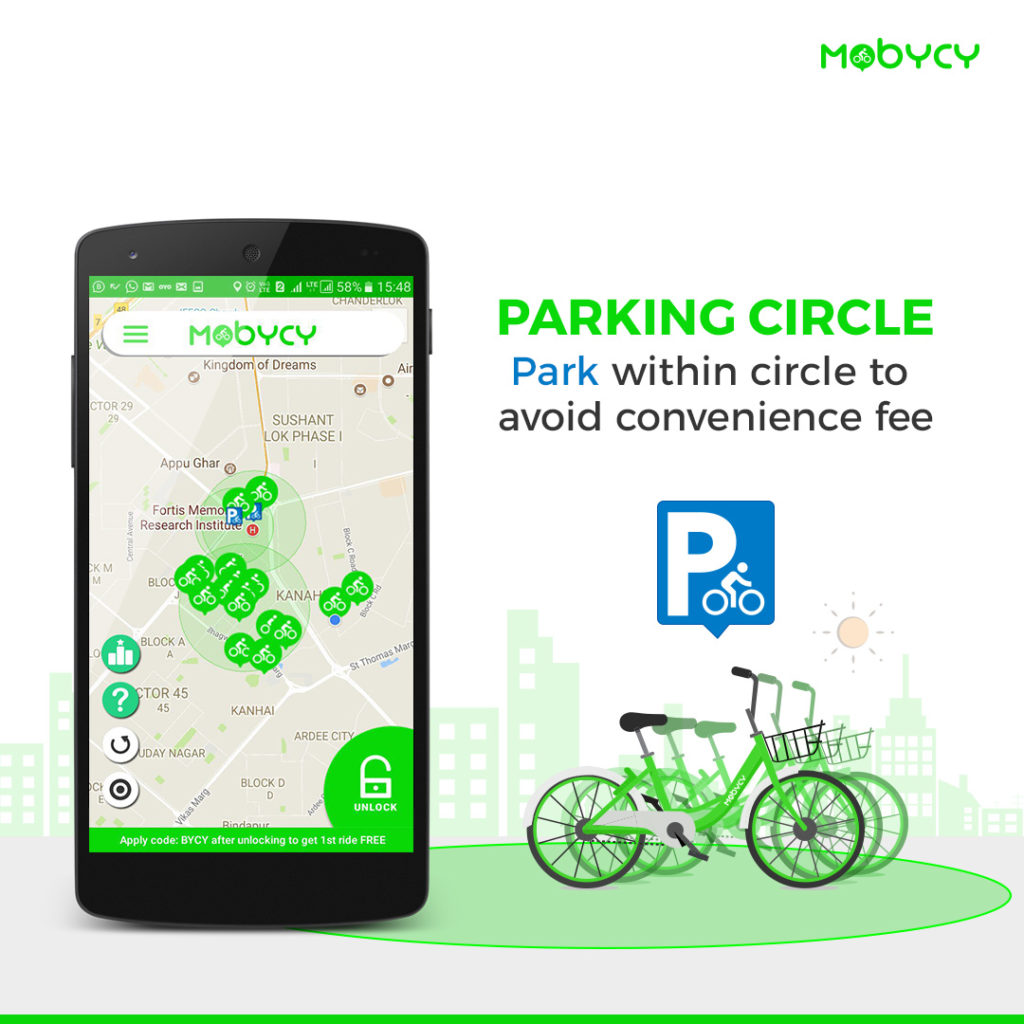 Why is Geo-Fencing beneficial?
For the Customer
Helps availability
Customers who often faced the problem of unavailability of bicycles in their respective areas will now be able to find cycles as per their demands.
Purely Dockless
While the concept of Dockless is being used by almost everyone in this domain, very few are actually using it. Geo-fencing is one way through which you don't have to find parking for your vehicle and can use it with a greater flexibility.
Helps Decongestion
Irresponsible parking always ends up creating chaos and leads to congestion of roads. Geo-fencing, on the other hand, is the perfect solution to fight this problem and is a positive step towards decongestion of the same.
For the Company
Swift Operations
To provide you with the best services available in the market, we have a dedicated operations team which makes it possible to make Mobycy more accessible to the Users. Parking circles enable us to keep a better track of where the bicycles are and where they are needed to maximize the utility.
Making City More Manageable                                                                                                We laid the foundation of this organization on the principles which would solve the problems related to congestion of roads, unnecessary carbon emission &  

lack of awareness. Though we are the only organization which is 

purely dockless, 

We still believe that parking irresponsibly will not solve the issue. So, we created parking circles which would help us make the city more manageable and efficient.
How does Parking Circle affect Pricing?
If you are parked inside the Parking Circle then you will not be charged any amount. Eg- After using the cycle, if you park inside the parking circle then you'll not bear any convenience charge.
If you are outside the parking circle then you'll be charged Rs.5 for a range of up to 1km. Eg-: If you have used Mobycy for 30 minutes and are 400 meters out of the parking circle then you'll be charged Rs.5 as a convenience fee.
If you park further than the limit explained above then you will be charged Rs 2 per km.  Eg – If you have used Mobycy for 30 minutes and have parked 2 km outside the parking circle then you will be charged a convenience fee of Rs. 5 for the parking outside the circle and Rs.4 for the distance of 2kms from the parking circle.
Geo-fencing is a positive step towards a more manageable and de-congested community. So, join us on this journey and Pedal towards a greener nation.
Happy Cycling to You.
To know more about the same please visit our FAQs