March 3, 2018 / by indrajeet / In City / 2 Comments
Want to buy grocery but bothered about traffic? Heavy, to and fro between hostel and classes due to spacey class schedule? Don't worry, we have got your back.
The hassle of availing transport services everytime you start your commute is a common problem and to overcome this we have introduced the concept of MID-BREAK or Pause & Play
Mid-Break will enable you to take your Mobycy ride wherever you go, without the issue of anyone else booking it.
How Mid-Break works?
1)Open the Mobycy app and click unlock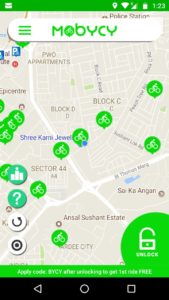 2) When you reach the desired location, lock the Bicycle manually to enter in Mid-Break/ Pause & Play
3) After locking your cycle a pop-up will show. Hit OK to proceed.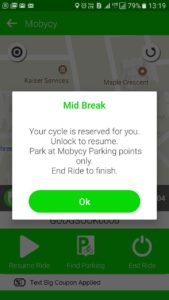 4) In Mid-Break you will have three options which can be used accordingly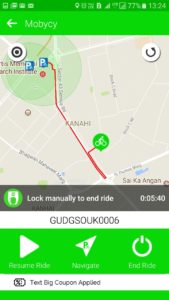 * Resume Ride – If you wish to continue using the services of Mobycy then select this option to continue (You don't have to scan the QR Code in Mid-Break)
*Navigate – If you are out of Mobycy assigned parking range then you can use this option to reach the nearest parking spot. (The green zones in the picture are the parking ranges and if you park out of these ranges, you'll be charged accordingly)
*End Ride – If you reach your desired location then you may end the ride by selecting this option and manually locking the bicycle. 
4) If parked outside Mobycy parking circle
In case you are not in Mobycy parking circle then you can easily find the nearest one through 'Find nearby parking', If you don't park your ride in the circle then you will have to convenience fee (Rs 5, If the bicycle is outside the parking circle and further 2 Rs per km will be charged based on the distance from the parking circle)  to ensure smooth and seamless services
Why Pause & Play?
The latest trend in traveling involves procurement of vehicle when required but with Mid-Break you don't have to bother about procurement and can easily avail the services as long as you need. This means that your Mobycy ride is not only a medium to commute with but is also your travel partner. Think of it like this.
Suppose you are going back and you feel like grabbing a quick bite from your favorite food joint. The idea sounds great but to book a ride for every to and fro doesn't sound so cool and to beat this you can take Mobycy. When you reach the joint, all you have to do is to lock the bicycle and enjoy your meal and when you are ready to leave, just unlock the cycle through the app.
Benefits of Pause & Play
Bye-Bye Hassles – With Mid-Break, the hassle of booking a vehicle, time and time again is removed.
Hello Convenience – You will be amazed to know that unlike other commute/ rental services, Mid-Break is a highly efficient alternative which would help you save time.
When to Mid-Break
Multiple Short Stops – If you have to travel very frequently for short distances then Mid-Break would be the best alternative as it'll remove the problem of booking rides every time you have to go to another place.
Enables smooth functioning- You are a very busy individual and find it hard to work-out or travel on a short notice. Mid-Break will enable you to go the distance and will help you maintain your health.
The benefits of Pause & Play are very vast and have the ability to solve a gamut of commuting needs. So, what are you waiting for?
Download/Update the app and get mobycying.