January 31, 2018 / by Vishy Singh / In City / 2 Comments
Hello, awesome riders!
With an amazing support, we got from you to make the dockless concept a successful venture in India, we travelled a pretty long way together. Growing each day made us come across some interesting questions regarding operations and parking guidelines. To help riders with this, we prepared a quick manual to help riders and city operations more manageable to avoid cycles being scattered unevenly across the city, campus and universities and being parked even at those places where cycles are not accessible.
Let's go through Mobycy operations highlighting the green zone where riders can use bicycles more conveniently and avoid any haphazard.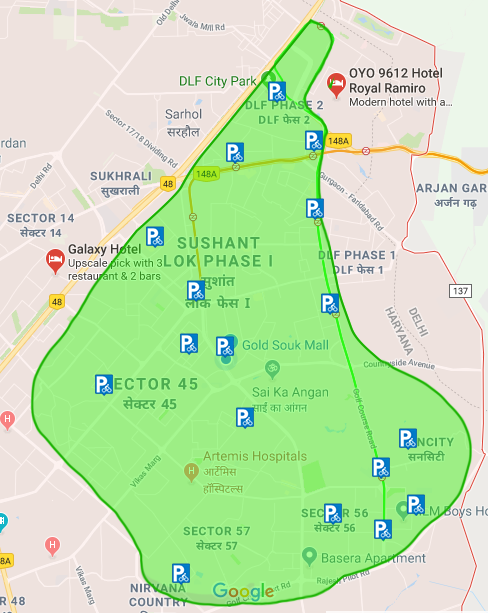 Mobycy is fully operational in Gurugram, where it is serving thousands of commuters for their first and last mile connectivity.
Above image clearly shows the "Green zones" along with parking symbols where commuters can park their bicycles in an organized manner and help other riders to spot them easily.
Apart from Gurugram, Mobycy is also successfully operating in
Noida: Within Amity Campus,
Greater Noida: Within Galgotia, Amity Campus
Faridabad: Within Manav Rachna University Campus
Chandigarh: Within Chitkara University Campus
Sonipat: Within Ashoka University Campus
Gwalior: Within Laxmi Bai Institute of Physical Education
Baddi, HP: Within Chitkara University Campus.
WHERE TO PARK A MOBYCY BICYCLE?
Mobycy users are encouraged to park bicycles at Mobycy Designated Parking Place. Bicycles should never be parked in private parks, within a compound, within a residence, or inside an underground parking space unless confirmed by a Mobycy executive. We are putting our best efforts to ensure that Mobycy bicycles are available around your place at any time of day.
To provide a comfortable smooth experience, we seek your support and understanding to park at Mobycy Designated Parking Place. To offer your place as Mobycy Designated Parking Place or to report wrong parking or bad parking, reach help@mobycy.com to get freebies from Mobycy team.
Correct parking norms:
Park in a safe public place.
Park in Mobycy Designated Parking Place.
Stack where bicycles are already parked or usually from places where you pick bicycles from.
Correct parking places are the official government-designated public parking areas.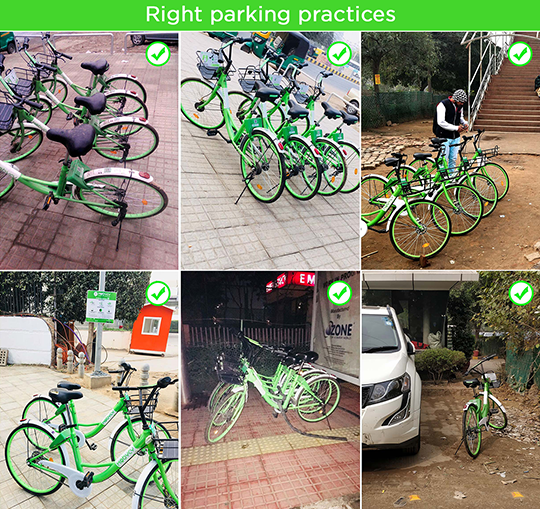 Incorrect Parking places: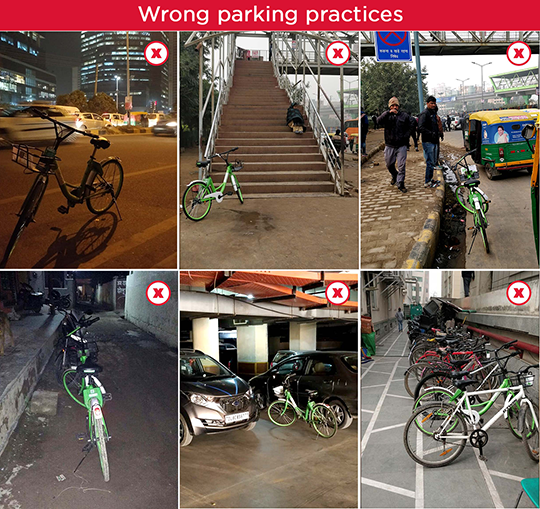 Never park inside a gated community unless it's a Mobycy Designated Parking Place.
Never park inside building or in basement / underground parking.
Never park in small alleyways.
Never park it where it could impact other commuters or other means of transport.
Never park it where it becomes difficult for other users to find or use.
There's is a saying " Road to success is dotted with many tempting parking places" and here Road to successful and operational dockless concept is achieved by proper amendments of city rules that we follow together as responsible citizens.
Let us know your thoughts on this in th comments below.