May 28, 2018 / by Vishy Singh / In Cycling / 0 Comments
Powering Gurugram with cycling and fitness mantra this June!
Have you ever thought, why the kids are super active and fit?
Well, the reason being they refuse to be lethargic, moreover, they keep on searching the things that excite them further. Contrary, adults accept the laziness and apathy, undoubtedly, which lead oneself to the den of diseases.
As an ancient quote says, "Height of the body is one's destiny, that he/she receives, while the weight is one's choice, that he/she chooses" Hence, we must have the control over the latter (which is not the case, as usual)
By combining the two paras, we can conclude that apathy is our choice with which we welcome a ton of diseases. But what's the solution to this vicious cycle?
Many will suggest you to hit the gym from coming Monday, others will contend you to join the nearby early morning yoga classes.
Here, I have another super cool notion, with which you could able to get back in the figure without spending much (both time & money) at the gyms/classes. Mobycy, a disruptive bicycle sharing technology platform which could help you to remain fit, while commuting to your office/school, at a very nominal cost, daily.
In order to motivate the people to join this green revolution, Mobycy is organizing it's 1st Cyclothon at Gurgaon on the World Bicycle Day, 2nd June 2018. Come along with your family and friends to contribute your bit. Because, it's the time when we have to start reviving our mother (Earth), earnestly.
Join the revolution, "A pedal towards the fitter you!" https://www.facebook.com/events/302398950294894/
Date: 2nd June 2018, Saturday
Reporting time: 5:30-6:00 A.M
Location: Gurgaon
Assembling Point: Huda City Center Metro Station (Yellow Line), Opposite Gate 3, Gurugram, Haryana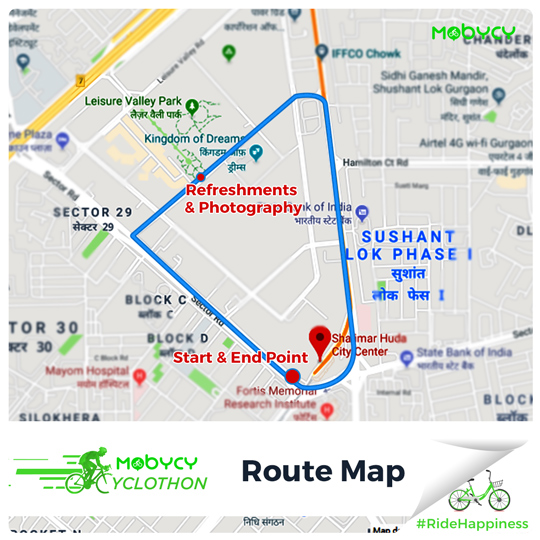 Register at: https://tinyurl.com/ya7b58o2
Entry: Free (Open to all age groups)
Event Freebies:
~ Prizes for the winners
~ Assured Goodies
~ Refreshments
Things to remember:
Bring up your cameras to capture the moments.
Please do not litter the route/park.
Bicycles will be provided by Mobycy, just get your smartphone loaded with Mobycy App to unlock the same.
Who can win:
Who completes the entire route in time
Who clicks some nice pics
Who posts the pics clicked on their social media tagging @mobycy
Please Note:
The number of entries is strictly limited. To avoid disappointment, register yourself before 31st May 2018.
Contact us: 9205946214
Mobycy is India's 1st Smart Bike Sharing app providing app based bicycles, ebikes, escooters on rent anytime, anywhere at a very affordable rental to solve last mile connectivity, pollution & traffic in India.