January 18, 2018 / by Vishy Singh / In Cycling / 3 Comments
Bicycle sharing concept in India has been talk of the town in recent weeks and everyone is wondering the future of this concept in Indian demographics. Many start-ups trying their best to make this concept work still in pilot mode, but Mobycy made it happen and rocked it. Having said that we didn't try any hit and trial but started this model with a mission of green India and went on streets live and operational and you will be amazed to know it was a Bull's eye!
With extensive qualitative and quantitative study of thousands of users across Delhi-NCR, we tracked the performance of the one-month operation and the results we got were pretty overwhelming stats.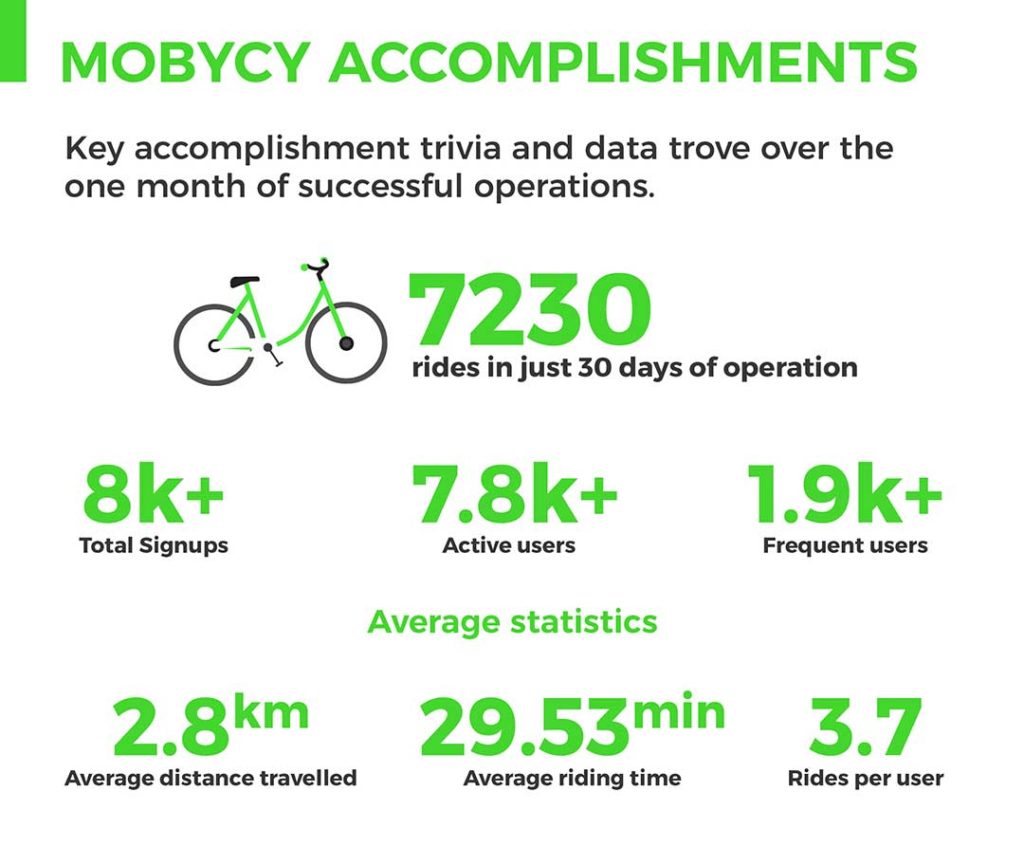 Key takeaways from this white paper
Mobycy being India's first Dock-less bicycle sharing platform started its first operation in Gurugram with support from Municipal Corporation and Police Authority.
Effective first and last mile connectivity boosted adoption of this concept by 30%.
Affordable and time saving for students and working class of India will get benefit from this concept which is supported by the fact that this concept helped save 75% of commute time.
According to campus stats, this concept became a part of student's lifestyle as there were 51% more active rides within the campus than the city average.
With the wide adoption of this concept, Mobycy rider community collectively traveled 19600 Km, which is almost half lap around the earth.
We together achieved 5000 ride milestone and planted 50 trees as a part of our green initiative.
The number above show the promising future of bicycle sharing model in India and Mobycy's efficient operations made it a proof.
We would like to thank all the support we got from Mobycy riders, Municipal Corporations, Universities, colleges and Police authority to help us make this happen. Your constant support will continue to grow this #GreenRevolution.
Read more on our extensive study and white paper
Be a part of our #GreenIndia initiative and #LetsMobycy #PollutionKaSolution